Day 1 ARRIVE AT DELHI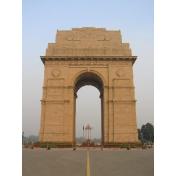 ARRIVE AT DELHI : Arrival at Indira Gandhi International Airport Delhi. Upon arrival meet and Greet by our representative and transferred to hotel. Overnight at Delhi hotel.
Day 2 DELHI-SAMOD (195Kms. / 3-4Hrs.)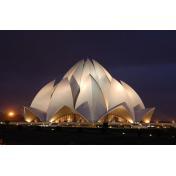 DELHI-SAMOD (195Kms. / 3-4Hrs.) : After breakfast, visit the beautiful city Delhi, the capital of India covering Laxmi Narayan Temple, the famous Humayun Tomb and the Bahia Temple also known as the Lotus Temple, India Gate - The memorial of martyrs, Parliament House - The Government headquarters, Qutab Minar. In the afternoon take a city tour of Old Delhi, covering Jama Masjid - The largest mosque in Asia, Red Fort - The red stone magic. After sightseeing in Delhi Drive to Samod The place of majestic forts, havelis (mansions) and handicrafts. Overnight stay in Samod.
Day 3 SAMOD-JAIPUR (45Kms. / 1-2Hrs.)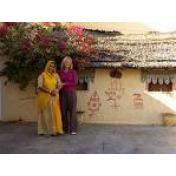 SAMOD-JAIPUR (45Kms. / 1-2Hrs.) : After breakfast, you will enjoy the sight seen in Samode. Such as Samode Fort - Samode Fort was the residence of the king before the construction of Samode Palace and visit Shekhawati Village, located just two and half kilometers away from Samode. Shekhawati village is famous for its havelis. Known for murals and wall paintings, this village is also regarded as the living art gallery of the world. Samod is the perfect place for those who love culture and local arts. After Sight seen in Samod drive 45km 1/2 hrs for another beautiful city is Jaipur. Overnight stay at Jaipur hotel.
Day 4 JAIPUR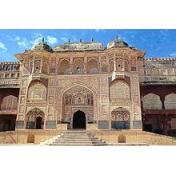 JAIPUR : After breakfast, start your city tour, visit the majestic Amber Fort, is one that cannot be easily described. Ride up on Elephants to the former capital of the royals set against the backdrop of the wooded hills. visit the City Palace, Hawa Mahal (Palace of Winds), this elaborate building, now little more than a fašade, is encrusted with delicate screens and carved balconies from which the royal ladies, confined to their quarters, could sneak views of the outside world. later go for shopping in the old (walled) pink city of jaipur. evening back to hotel, overnight at Jaipur Hotel.
Day 5 JAIPUR-FATEHPUR SIKRI-AGRA (240Kms. / 5-6Hrs.)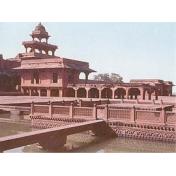 JAIPUR-FATEHPUR SIKRI-AGRA (240Kms. / 5-6Hrs.) : After Breakfast, drive for Fatehpur Sikri. Visit Buland Darwaza, Panch Mahal, The Jami Mosque, Birbals Palace, Sunhera Makan, Palace of Jodha Bai, Khan-i-khana tomb, Daulat Kahan-i-khas, Diwan -i-am and Diwan - I - Khas. After sight seen at Fathpur sikri You will Drive another 40Kms. just 1hr For Agra the place of seven wonder. Overnight stay at Agra hotel.
Day 6 AGRA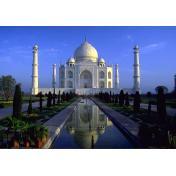 AGRA : After breakfast, visit the magnificent Taj Mahal - one of the seven wonders of the world surely the most extravagant expression of love ever created. 20,000 men labored for over 17 years to build this memorial to Shah Jahans wife. Also visit the Agra fort - the rusty and majestic red-sandstone fort of Agra stands on the banks of the river Yamuna and the construction was started by Emperor Akbar in 1566. Overnight at hotel in Agra.
Day 7 AGRA-GWALIOR (118Kms. / 2-3Hrs.)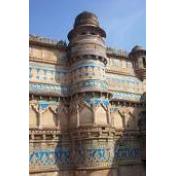 AGRA-GWALIOR (118Kms. / 2-3Hrs.) : After Breakfast, you will drive for Gwalior. At arrival check in Gwalior Hotel. After fresh up visit The Gwalior Fort. Gwalior Fort dominates the city and is its most magnificent monument. It has been a scene of momentous events : imprisonments, battles and jauhars. Ovrnight Stay in Gwalior Hotel.
Day 8 GWALIOR-DELHI (348Kms. / 6-7Hrs.)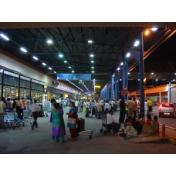 GWALIOR-DELHI (348Kms. / 6-7Hrs.) : After Breakfast, Drive Back to Delhi drop you at Delhi Airport / Railway station for your onward / return journey.