Day 1 ARRIVE BANGALORE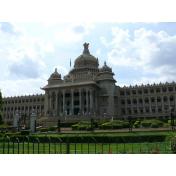 ARRIVE BANGALORE : Arrive Bangalore and Meet assist at the airport and transfer to hotel. Check in the hotel and proceed to visit the city of Gardens You will see Vidhana Soudha. It houses the States Legislature and Secretariat. Nandi Temple - One of Oldest temple (popularly known as the Bull temple), etc. Overnight at Bangalore Hotel
Day 2 BANGALORE-MYSORE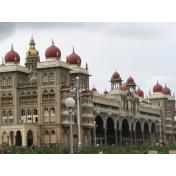 BANGALORE-MYSORE : After breakfast, Morning drive to Mysore. The city got its name from Mahishasura - the buffalo headed demon king. Chamundeswari - an incarnation of Parvati, consort of Lord Shiva, killed the demon. It is also the capital of sandalwood, musk and rosewood. Mysore emerged as the capital of the Wodeyar kings, in 1399 AD. The original wooden palace was destroyed in a fire in 1897 during a marriage ceremony. Henry Erwin, a British architect, designed the new palace and handed it over to the king in 1911 to 1912, at a cost of Rs. 4.2 million. Though royalty no longer exists in its accepted form, the descendants of the royal family still live here. The palace is a blend of Indo Saracenic, Mogul and Hindu architecture styles. The entire effect is magnificent. Other attractions include the Lalit Mohan Palace, at the foot of the Chamundi Hill. E. W. Fritchley, a British architect, built it in 1931. Then there is the Jagan Mohan Palace, built by krishnaraja Wodeyar in 1861 as a royal auditorium. Today, it is a famous art gallery, containing royal paintings. Night stay in Mysore.
Day 3 MYSORE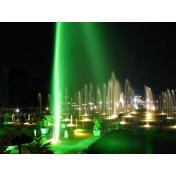 MYSORE : After breakfast, visit Sir Jayachamarajendra Art Gallery, housed in the Jag Mohan Palace. This gallery has a collection of exquisite paintings dating back to 1875. St. Phenomenon Church Built in the Gothic style - one of the largest churches of the country. Chamundi Hills Right on the top of the hill, Brindavan Gardens - witness the exuberant beauty of Brindavan Gardens. Also visit Mysore Palace - Once the residence of the Wodeyars, Built in 1912 in the Indo Saracenic style. This palace exudes a grandeur that is unmatched. The Golden royal Elephant, the Durbar hall. Night stay in Mysore.
Day 4 MYSORE-OOTY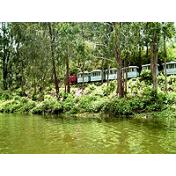 MYSORE-OOTY : After breakfast, drive to Ooty. Arrive and transfer to hotel. Evening free to explore the beautiful & ravishing beauty of Ooty.Also visit Botanical Garden - A variety of exotic and ornamental plants adorn this garden which is the venue for the Flower show held in May every year. Night stay in Ooty.
Day 5 OOTY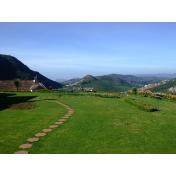 OOTY : After Breakfast, Day free to relax and explore the surroundings. It is one of the most popular hill resorts in southern India, at an elevation of 7216 ft. above sea-level. The Eastern Ghats are mighty and attractive while the Western ghats have wooded lovely ness. Night stay in Ooty.
Day 6 OOTY-ALLEPEY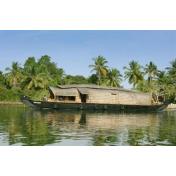 OOTY-ALLEPEY : After Breakfast, Drive to Alappuzha. In Alleppey you will be taken aboard your floating houseboat, a different boat, with a bedroom and en-suite rest room for your comfort. Enjoy unlimited surfing on backwaters, sip a coconut, get disturbed by only the chirping of birds and occasional ripples in water and savor mouthwatering delicacies prepared in front of you by your Kitchen crew. Spend the night on board the houseboat. Enjoy a cruise on the backwater through a maze of canals and lagoons and enjoy freshly caught fresh water fish cooked to your taste on board. Night stay in Alappuzha.
Day 7 ALAPPUZHA-KUMARAKOM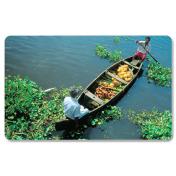 ALAPPUZHA-KUMARAKOM : Morning by boat through many canals and waterways and then short driver, we take you to Kumarakom. The backwater cruise in a country boat is the best way to explore the villages and rural life. Kumarakom near Kottayam and stay in one of the backwater resorts. The panoramic backwaters here offer an ideal retreat to enjoy nature at its best. Night stay at Kumarakom.
Day 8 KUMMARAKOM-MUNNAR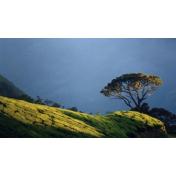 KUMMARAKOM-MUNNAR : Morning drive to Munnar, the famous hill station of Kerala. Arrive Munnar and transfer to hotel, day at your leisure to relax, overnight at Munnar.
Day 9 MUNNAR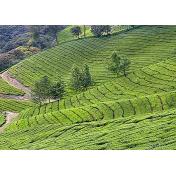 MUNNAR : Day is free to relax and to walk around. Munnar is situated near the Anaimudi Peak, the highest peak in the Western Ghats. Also visit Rajamalai & Eravikulam National Park - 15KM from Munnar. This is the natural habitat of the Nilgiri Tahr - a rare mountain goat, Marayoor, 40 KM from Munnar, the only place in kerala that lays claim to the natural growth of Sandalwood. The Muniyara caves with murals and relics from the new stone Age Civilization. Night stay in Munnar.
Day 10 MUNNAR-PERIYAR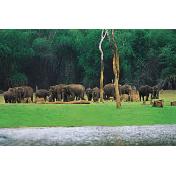 MUNNAR-PERIYAR : After breakfast, drive to the wildlife reserve at Periyar. Arrive and rest of the day at your leisure. Free for walk around in the peaceful town known for various Spice and coffee plantations. Night stay in Periyar.
Day 11 PERIYAR-MADURAI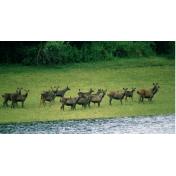 PERIYAR-MADURAI : Early morning enjoy a boat ride on Lake Periyar to see wild elephants and afternoon drive on a scenic route dotted with plantations of rubber, cardamom, cocoa, green pepper and areca nut. The ancient city of Madurai, some 2600 years old, is laid out in the banks of river Vaigai, as a lotus flower with the Meenakshi temple in the centre. Arrive Madurai and transfer to hotel. Night stay in Madurai.
Day 12 MADURAI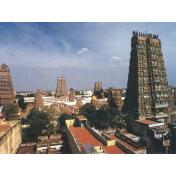 MADURAI : Madurai is over 2500 years old and is the second largest city of Tamil Nadu, Ancient seat of learning. The city is planned in the shape of a lotus. Situated on the banks of the Vaigai River, Madurai is the ancient capital of the Pandya Kings. Legend has it, that the divine nectar falling from the locks of Lord Shiva gave the town its ancient name, Madhurapuri the land of nectar. Today, it is an important business centre. The crowning glory of Madurai is the Meenakshi Sundareshwara Temple Complex, which is dedicated to Goddess Meenakshi, her consort Lord Sundareshwara, and her celestial brother, Lord Vishnu. The Meenakshi Temple has a thousand pillared hall. Overnight ay Madurai Hotel.
Day 13 MADURAI-TRICHY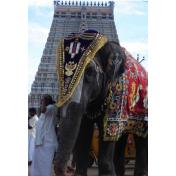 MADURAI-TRICHY : Morning drive to Thanjavur (Tanjore) (104Kms. / 03Hrs.), en route visiting the Brass factory at Kumbakonam. Tanjore once the capital of Chola Kings, has the Brahadeeswara temple(or the big temple of God). The temple tower rises to a height of 15mts. from a square base of 29mts. and then tapers off, making a total of 66mts. Continue drive to Trichy. Arrive and transfer to hotel. Night Stay in Trichy.
Day 14 TRICHY-MAHABALIPURAM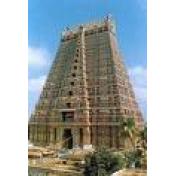 TRICHY-MAHABALIPURAM : Tiruchirapalli, situated on the banks of Kaveri River, is a blend of history and tradition as well as pilgrim centre. It is famous for Ranganath temple at Srirangam. After Breakfast start city tour visiting Rock fort and its temple at a height of over 23mts. Also visit Srirangam and Jambukeshwar Temple. Later Drive to Mahabalipuram.
Day 15 KANCHIPURAM-CHENNAI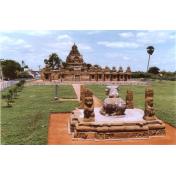 KANCHIPURAM-CHENNAI : Morning drive to Kanchipuram - known as the Golden City of a Thousand Temples, is one of the oldest towns in India. It is famous for both its temples (many of them remarkably well preserved) and for its hand-woven silks. Kanchipuram is one of the seven sacred cities of India and it is the only one associated with both Shiva and Vishnu. Visit Ekambareshwar Temple, Kailashnath Temple, Kamakshi Temple, The Vaikuntha Perumal Temple, all built in the 7th and 8th centuries. With a weaving tradition dating back to the Pallava era (when silk was the royal cloth). Kanchipuram is justly famous for its particularly fine silk saris, embellished with stunning patterns. Visit the local homes of the weavers and watch them create magic out of silk thread into saris. Continue drive to Chennai. Night stay in Chennai.
Day 16 CHENNAI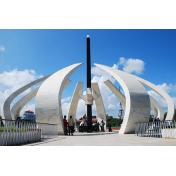 CHENNAI : Morning after breakfast proceed for sight seeing tour of Chennai. Covering St.Thomas Church, Kapaleeshwar Temple and Fort St.George. Drive past the Marina Beach - the natural sandy beauty and spacious promenade and beautiful gardens of the beach attracts tourists visiting Chennai. Night stay in Chennai.
Day 17 CHENNAI
CHENNAI : After breakfast day free for personal activities and for shopping. Overnight at Chennai Hotel.
Day 18 DEPARTURE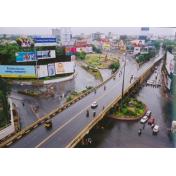 DEPARTURE : After Breakfast, day at your leisure, till we transfer to airport to board the flight back home.