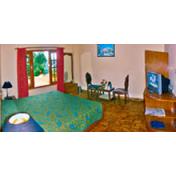 MN Chowk, Udhampur
Hotel Skylark - is located in the town of Udhampur (Jammu & Kashmir) is an exclusive boutique hotel offering a contemporary retreat of elegant and spacious accommodation. The well oppointed rooms are the perfect choice for discerning vistors wishing ...
Dhar Road, Udhampur, Udhampur
Somewhere wind blows through Palm and Pines, Hear cooing cuckoos or may be charging sparrows. Where you feel fun and frolics harmonizing eternal Nature and perpetual peace for the wandering mind lush green lawns add to aesthetics of the Grandeur to sprinkle ar...